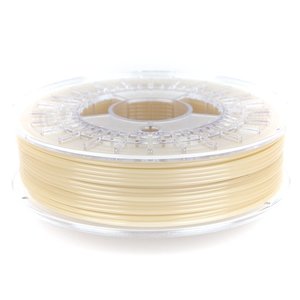 Add to cart
Varioshore TPU natural-voluminous foaming flexible filament, 700 grams
Diameter: 1.75 mm, Colour: Natural
€37,15

excl. BTW
€44,95 incl. BTW
Varioshore TPU is a flexible filament that starts to foam at a temperature between 200 - 250 ° C and therefore the volume increases 1.5 x. This allows you to 3D parts print that are very light, soft and resilient. Think shoe soles, pillows and soft pads.
€37,15

excl. BTW
€44,95 incl. BTW
Afhalen magazijn mogelijk!
CHECK IT OUT!
Xavier Simon
20-03-2021 10:51
Dit is zonder twijfel het meest verrassende filament dat ik heb gebruikt!
Zonder de eigenschappen van de TPU te veranderen, is het mogelijk om de structuur en dichtheid te veranderen door de extrusietemperatuur en -stroom te veranderen.
Bij 200 ° is het een 'echte' TPU bij 250 ° en de structuur lijkt op neopreen.
De gebruiksmogelijkheden zijn absoluut eindeloos!

Sans aucun doute ç'est le filament le plus surprenant que j'ai utilisé !
Sans changer les caractéristiques du TPU, il est possible de changer a structure et sa densité en modifiant la température d'extrusion et le flow.
A 200° c'est un 'vrai' TPU à 250° sa structure est proche du néoprène.
Les possibilités d'utilisation sont absolument sans fin !
5
stars based on
1
reviews