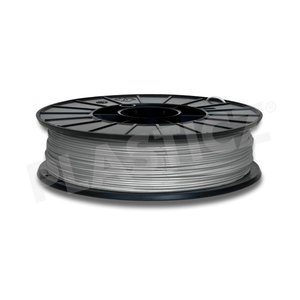 Add to cart
PLA Metallic Grey, RAL 7045, 1 KG 3D filament
Diameter: 1.75 mm
€17,77

excl. BTW
€21,50 incl. BTW
Plasticz PLA Metallic Gray PLA is neutral metal gray and is widely used for 3D printing of parts, imitation metal, design objects etc. It prints great and is cheap.

PLA Metallic Grey
Colour +/- RAL 7045
Diameter 1.75 / 2.85 mm
€17,77

excl. BTW
€21,50 incl. BTW
Afhalen magazijn mogelijk!
CHECK IT OUT!
Peter Sijpkes
26-01-2020 21:51
Prima fillament, ik maak veel vuldig gebruik van het Plasticz huismerk voor het printen van RC Vlieguigen en onderdelen van RC Auto's. Ik gebruik als basis wit, zwart en metalic. Alle die zijn probleemsloos te verwerken. Ik print wel iets boven de geadviseerde temperatuur voor een optimale hechting (ik print op 225graden).

De metalic kleuris ideaal als basis voor vliegtuigen en behoeft vrijwel geen nabewerking
Michiel Peters
25-10-2017 11:53
Very nice filament. First filament I needed to lower the temp for, cause it was not flowing nicely and it was boiling. Now printing it at 190ºC and it flows really nice.
Plasticz is my #1 store for filament, owner is very friendly and has quality products. Tests before he's selling.
Anne Dirk Loonstra
14-07-2015 09:43
Print uitstekend, goede kleur, lage temperatuur. De nozzle hoeft niet warmer dan 205 graden. Zelfs zonder heated bed hecht het goed.
5
stars based on
3
reviews