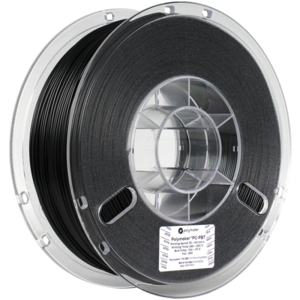 Add to cart
PC-PBT, polycarbonate PBT-engineering filament, 1 KG
Diameter: 1.75 mm, Colour: Black
€49,55

excl. BTW
€59,96 incl. BTW
PC-PBT is a engineering filament mix of polycarbonate and Polybutylene terephthalate. PC-PBT is rock hard and strong. In addition, PC-PBT has 139°C temperature- and especially chemical resistance.
€49,55

excl. BTW
€59,96 incl. BTW
(€5,99 / 100 gram)
Article code TRIPOLCON1S3243
SKU 70260
Afhalen magazijn mogelijk!
CHECK IT OUT!
Niels
03-02-2021 21:05
Na advies over verschillende filamenten van de website info mail, uitgekomen bij dit filament

Het is een zeer netjes en professioneel verpakt filament het komt in een luchtdichte verpakking en een handige handleiding.

Ik heb het filament +/- 8 uur gedroogd in een oven op 80 graden.

Hierna heb ik vanuit een drybox geprint met 260 graden nozzle temp en een printbed van 100 graden. Mijn printer staat in een afgesloten kast. (print temp bepaald doormiddel van een temp tower)

Ik heb eigenlijk geen slechte dingen aan het filament ontdekt, ik heb er aanzuigtrechters van geprint voor Zundapp carburateurs en wat proefonderdelen.

De lagen hechten zeer goed aan elkaar, en het geprinte onderdeel voelt zeer stevig en solide aan. De aanzuigtrechters waren nog licht flexibel omdat deze maar 1 mm dik waren.

Ga dit zeker vaker gebruiken!
Niels
11-01-2021 13:01
Na overleg met de winkel bij dit filament uitgekomen. Het moet tegen brandstof kunnen aangezien het voor aanzuig trechter voor een Zundapp carburateur gebruikt.

Het filament word geleverd in een kartonnen doos, de spoel filament is luchtdicht verpakt in een hersluitbare aluminium achtige zak.
Er word een handleiding mee geleverd met verdere print instructies en andere noodzakelijke informatie.

Na het filament 8 uur in een oven gedroogd te hebben op 80 graden, heb ik vanuit een drybox geprint.
Mijn printoppervlak is PEI en hier hechte het uitstekend op.
De lagen hechten uitstekend aan elkaar en het geprinte onderdeel voelt stevig aan, en aangezien hij maar 1mm wanddikte heeft ook nog licht flexibel.

Ik print met een i3 model printer welke in een afgesloten kast staat. Titan extruder en een e3d v6 hotend.
Bij mij printte het uitstekend met 260 graden nozzle temp en een hot bed op 100 graden.

Ik raad dit filament zeer zeker aan!
5
stars based on
2
reviews