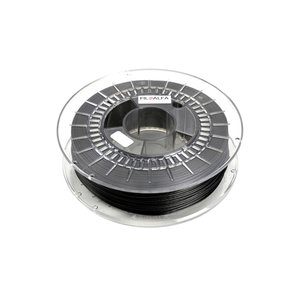 Add to cart
ALFAOMNIA, carbon filled industrial filament
Weight: 1 KG (1.000 grams), Diameter: 1.75 mm
€58,68

excl. BTW
€71,00 incl. BTW
ALFAOMNIA is a unique professional filament mix filled with carbon. ALFAOMNIA prints like PLA, but a comparable traction resistance as PEEK or Ultem! Furthermore, this filament is very strong, has high mechanical performance and is durable.
€58,68

excl. BTW
€71,00 incl. BTW
Afhalen magazijn mogelijk!
CHECK IT OUT!
Paul Gerlach
21-12-2019 23:11
Dat Italianen mooie auto's kunnen ontwerpen wisten we al. Maar blijkbaar kunnen ze ook goede filamenten maken.
ALFAOMNIA is een filament met carbonvezels erin verwerkt en wordt aangeprezen voor printprojecten waarbij hoge stijfheid en sterkte is vereist.
Zelf heb ik al heel wat carbon-filament van verschillende fabrikanten door mijn printer laten gaan en ik moet bekennen dat dit filament met kop en schouders boven alle anderen uit steekt.
Het print inderdaad zeer gemakkelijk. Ik zou niet zo ver willen gaan dat het even gemakkelijk print als PLA maar zeker een stuk gemakkelijker dan diverse carbon PET-G filamenten.
Geen warping; ook daar is geen woord van gelogen. Daarbij moet ik wel vermelden dat mijn prints zijn gedaan in een afgesloten printer en zonder de fan aan te zetten bij een printtemperatuur van 245 graden Celsius.
De prints zien er ook geweldig uit. Niet dat dofgrijze uiterlijk dat ik ken van carbon PET-G filamenten maar een mooie mat, bijna zwart, professioneel uiterlijk.
Als support materiaal kan ik HIPS van Filamentum zeer aanbevelen. Dit materiaal blijkt een zeer goede combo te vormen met ALFAOMNIA. De HIPS-support, met nul separatie, is goed te verwijderen en laat geen zichtbare sporen achter.
5
stars based on
1
reviews